Salute from the Shore is proud to release our 2014 Thank You video to the military and their families for all the sacrifices they make to protect us and keep us free. We want to reach as many service members and their families as possible, so please join us in thanking them by sharing this video with as many service members and families as possible. To all the men and women of the military, Salute from the Shore and all of South Carolina say, THANK YOU!
---
Salute from the Shore V Preview Video
Come to the South Carolina coast on July 4th and show your patriotism as aircraft fly overhead to salute our armed forces.  Watch this video to get a feel for how moving this event is each year…
Flyover Schedule
The 5th Annual Salute from the Shore will begin, as always, at 1:00 PM on July 4th in Cherry Grove, SC. Due to the large number of vintage military aircraft involved and their different flight speeds, we've decided to group them according to speed. This will give everyone on the beaches a longer experience! The slower planes will start first and will be visible over Cherry Grove immediately. There will be two more flights of planes that will chase and overtake the slower aircraft at different points along the coast.
We hope you enjoy this new feature, and we certainly hope it will allow even more people to experience this special tribute to our nation's military.
Post or tweet using the hashtag #salute5 or #salutefromtheshore to keep people down the beach updated on the planes' progress down the coast. See you on the beach!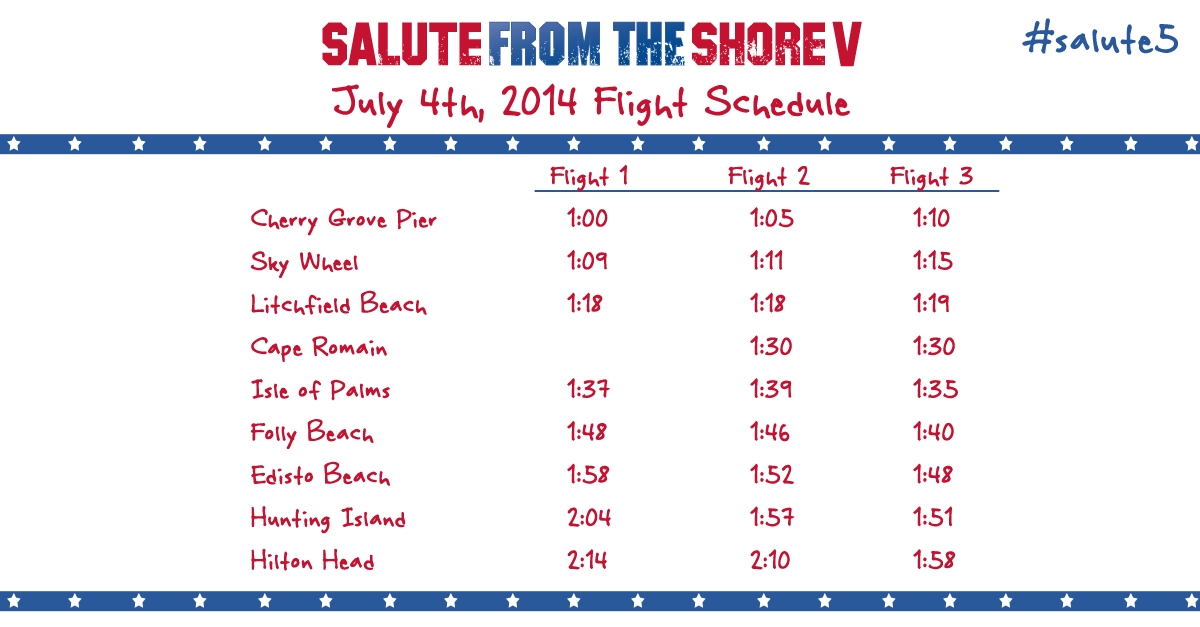 ---
Salute from the Shore IV
---
Salute from the Shore III
---
Salute from the Shore II